X-RAY FILM DIGITIZER FOR PACS & REMOTE PRIMARY DIAGNOSIS*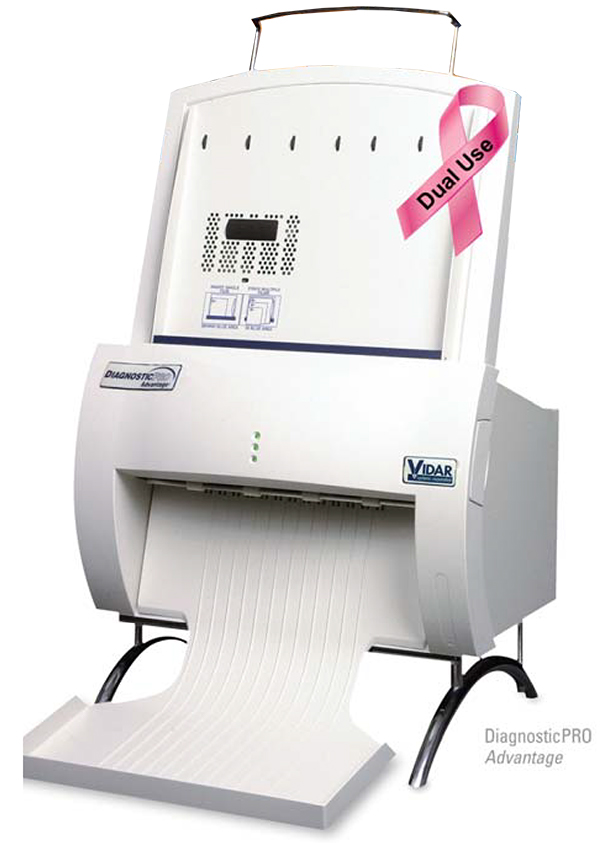 VIDAR's DiagnosticPRO Advantage has raised the bar by achieving better overall performance — reliability, image quality, consistency, and productivity — than any other digitizer on the market. With its high-resolution capabilities (44.5 microns), it provides the ability to digitize mammography films, and offers larger spot size options for digitizing general radiographic, CT, MR, ultrasound, and nuclear medicine films.
*The DiagnosticPRO Advantage with ClinicalExpress or other DICOM standard software meet or exceed ACR and DICOM standards for use of secondary capture images for consultation, review and final interpretation. Images captured as DICOM MG are to be used as reference or comparison only, and not for primary diagnosis.
Digitizes up to 25 mixed-sized films in batch mode, allowing more productivity and greater efficiency.
Ideal for Dual use – general radiography or mammography.
Clinically proven image quality and consistency.
Exceeds the American College of Radiology Teleradiology Practice Guidelines.
Offers the only 32-bit data path in the industry to maximize grayscale accuracy and performance.