Veterinary Digital X-Ray
TigerView Veterinary Digital X-ray – Make the move to digital
Veterinary Digital X-rayTo complement your digital sensors, phosphor plate systems, DR systems, cameras and scanners you will need imaging software to view and store your images. TigerView's FDA cleared image processing ensures the best image quality with our World-class imaging algorithms which produce superior images. Unique to the Veterinarian market, Tigerview is capable of acquiring both your dental and full body x-rays! Tools such as Window leveling allow complete control of the image display. Achieved, "Best ease of use and superior image quality" by the AVDF should put your mind at ease when using TigerView Vet PACS.
Advanced Diagnostic Tools and Veterinary Specific Measurements
Easily review VHS, Cobb's angles, HDI, find the midline and center point, utilize stitching, cropping and magnification tools which help to better communicate to your patients!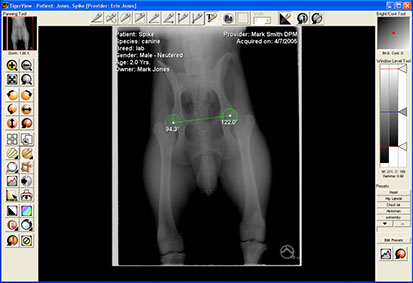 Incomparable Ease of Use – Minimal training required
TigerView automatically optimizes for excellent image quality, and digitally displays each image as it is acquired. TigerView manipulations allow for rotation, annotation and measurement of images with simple tools.
DICOM Conformance – Facilitates second opinions
TigerView is DICOM 3.0 conformant and allows seamless import and export of images with third-party DICOM systems as well as DICOM Remote Storage.
Multi-Room Image Display and Web Access – Assists patient education
TigerView networking allows your digital images to be displayed and viewed in your exam rooms and non-patient areas that are equipped with PC's immediately after they have been acquired. Using TigerView CLOUD, easily access your images with any web browser, iPad, Android device remotely where you have an internet connection.
PMS Bridging – Easy link from your PMS
Access your images from your clinical and management systems. This link is available through your practice management system or the TigerLink function.
Hardware neutral for Dental and Body – Use different hardware with TigerView
TigerView's hardware neutrality allows our customers to select from the many digital sensors and phosphor plate technologies. Having this neutral position provides the end user confort in selecting what they feel to be the "best" option from different manufacturers. Avoid the hassle of storing dental and full body x-rays in multiple software and databases. TigerView delivers the best of both worlds with one Veterinarian specific PACS software.
Optional TigerView Modules – Accommodates other image sources.
TigerView will manage other types of medical images including:
Digitized historic x-ray film
Analog video images captured from ultrasound and intraoral cameras
Color digital camera images for morphing and wound care progression